❤️ In Memory of our Doctor 💙
Lockhart"Lock" Boyce, DVM
September 16, 1951 – August 10, 2020

Dr. Boyce is a native of Forsyth County, North Carolina and a graduate of RJ Reynolds High School. He studied at UST, Kumasi Ghana and graduated from Davidson College. He earned his Veterinary degree from the University of Georgia and completed a clinical internship at the San Diego Zoo and Wild Animal Park.
Dr Boyce was drafted into the United States Army and served many years on active duty and in the IRR.
He has milked snakes and wrestled alligators, worked for the Ghana Department of Game and Wildlife and lived for several years in Kenya.
He is a major shareholder in Bull Mountain Farm and he has called Patrick County his home since 1982. At one time he was one of the largest cow-calf producers in Southwest Virginia. He was involved in BRATS in the early years as well as the JEB Stuart Volunteer Rescue Squad. He was the lead singer with the "JUSTUS" band and his is co-founder of the Virginia Academy of Small Animal Medicine.
Dr. Boyce was formerly the Chairman of the Patrick County Board of Supervisors serving the Mayo River District and Peter's Creek District.
Dr. Boyce has nine children and four grandchildren.
The photo above is Dr. Lock Boyce with some of his children:
(left to right) Jasper, Cody, Lilly, Wiley, Lock and Billie Joe.
Horses pictured are Highboy and Jupiter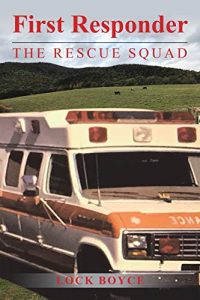 Lock Boyce's new novel
"First Responder The Rescue Squad"
Available at Amazon, Barnes & Nobles, etc.
In the foothills of the Virginia Blue Ridge Mountains a volunteer rescue squad must contend not only with the stressful situations of their work but also the evil corruption of the County leadership. While removing friends and family from the wreckage of automobile accidents they stumble into a money-laundering scheme involving the Gambino crime family. As in real life, this tale is a mixture of humor and tragedy. Ultimately there is a violent resolution but then, "violence is as American as apple pie."
Obituary Dr. Lock Boyce