Lockhart "Lock" Boyce, DVM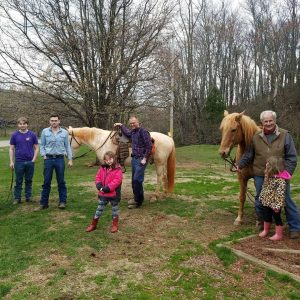 Dr. Boyce is a native of Forsyth County, North Carolina and a graduate of RJ Reynolds High School. He studied at UST, Kumasi Ghana and graduated from Davidson College. He earned his Veterinary degree from the University of Georgia and completed a clinical internship at the San Diego Zoo and Wild Animal Park.
Dr Boyce was drafted into the United States Army and served many years on active duty and in the IRR.
He has milked snakes and wrestled alligators, worked for the Ghana Department of Game and Wildlife and lived for several years in Kenya.
He is a major shareholder in Bull Mountain Farm and he has called Patrick County his home since 1982. At one time he was one of the largest cow-calf producers in Southwest Virginia. He was involved in BRATS in the early years as well as the JEB Stuart Volunteer Rescue Squad. He was the lead singer with the "JUSTUS" band and his is co-founder of the Virginia Academy of Small Animal Medicine.
Today, Dr. Boyce is the Mayo River Representative on the Patrick County Board of Supervisors.
Dr. Boyce has nine children and four grandchildren. He resides on Bull Mountain.
The photo above is Dr. Lock Boyce with some of his children:
(left to right) Jasper, Cody, Lilly, Wiley, Lock and Billie Joe.
Horses pictured are Highboy and Jupiter