Located in Patrick County, Virginia.
Easily accessible on US Highway 58 in Stuart.
Just click on DIRECTIONS to find us from where you are.
Serving Southwestern Virginia, North Carolina and Beyond.
Large, Small and Exotic Animal Practice.
---
BUSINESS HOURS
MONDAY THRU FRIDAY…………….8:00AM – 6:00PM
SATURDAY…………………………………..8:00AM – NOON
SUNDAY………………………………………..9:00AM – 10:00AM
Holidays same as Sunday.
All major credit cards are welcome!
---
Boyce-Holland Veterinary Service: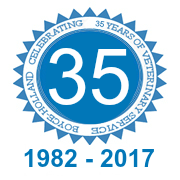 Telephone:
276-694-3564
276-694-5957
Toll-Free:
1-800-225-3564
Fax:
276-694-2271
Address:
21047 JEB Stuart Hwy. Stuart, VA 24171
Electronic mail:
General Information: boyce-holland@embarqmail.com
Webmaster: dlouiswebdesign@yahoo.com
---
Emergency Contact Information:
For After-Hours Emergencies:
Carolina Veterinary Specialists:
Greensboro: 336-632-0605
Winston-Salem: 336-896-0902
---
WE PROVIDE QUALITY CARE FOR YOUR PET FROM THE SMALLEST TO THE LARGEST.
PLEASE CONTACT US FOR MORE INFORMATION 276-694-3564
– CANINE SERVICES
– FELINE SERVICES
– SURGERY AND GENERAL SERVICES
– VACCINATIONS
– BOYCE-HOLLAND SPAY
---
Boyce-Holland Veterinary Services Needs Your Feedback!
You've chosen an AAHA-accredited veterinary hospital, one of only 3,000 in the U.S. and Canada. Our accreditation by the American Animal Hospital Association means that we've undergone a rigorous evaluation process to ensure that we comply with strict standards in patient care, pain management, surgery and many other areas. Think of it as a guarantee that your pet is receiving the highest quality care available.
Just as we are committed to providing top-level medical care, our practice is dedicated to providing you with the best service possible. Your feedback helps us anticipate your needs and make improvements. We'd sincerely appreciate it if you could let us know how we're doing by taking our quick and easy, online survey. The survey features about 20 questions and should only take about 10 minutes of your time.
Your responses are strictly confidential unless you request a call back. Rest assured that we will never sell your email address to a third party vendor.
To begin the survey, please connect to the internet and enter: aaha.org/css into the address bar. The first question will ask for a PIN. Use: 4172730.
You have until July 9, 2017 – 90 days past the original date your hospital received a PIN – to complete the survey. Thank you for your time and valuable feedback!